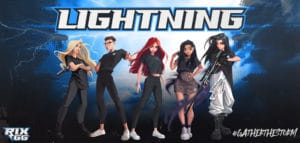 UK esports organisation Rix.GG have announced a new Valorant roster known as 'Lightning', in a bid to champion esports for women and marginalised gender players.
"Rix.GG is committed to seeing women and marginalised gender players compete at the highest levels of esports, and hopes to pave the way for the future," the org said in a press release.
The roster will consist of the following players from the UK and EU:
Daniela 'Jupi' Gradl
Maria '6sonya' Istrate
Nelly 'Raina' Sosobrado
Paige 'Padge' Thomas
Anja 'aNNja' Vasalic
The Rix.GG Lightning team will be managed by Nicole 'Wolf' Sølvmose, who joined Rix at the start of the month to head up their new esports inclusion division.
Continue reading Rix.GG announce 'Lightning' Valorant roster as part of drive to see women and marginalised gender players 'compete at the highest levels of esports'